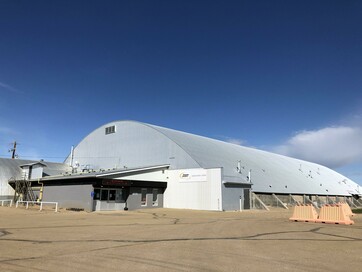 GIBSON ENERGY Centre (Arena)
The Gibson Energy Centre, also known as the Hardisty Arena, is a single-pad ice rink located in the heart of town. The arena is open from October to the end of March each year, and besides Minor Hockey rentals, is also used for CanSkate, Figure Skating, Shinny, Public Skates and fun league hockey. The adjacent curling rink offers up three sheets and is in use all winter long. An upstairs hall at the curling rink provides a warm place to watch friends and family members throw rocks, or to hold gatherings.
Built in 1950s, multiple renovations since
Electrical and mechanical upgrades/ renovations of change rooms, concession, and players boxes along with enhanced viewing area above players boxes
Exterior Improvements with new roof and parging on building which addressed grade-related water issues
Interior seating and lobby seating
Parking

Managed by the Hardisty Agricultural Society
To book, phone James Morrison at 780-888-5656.