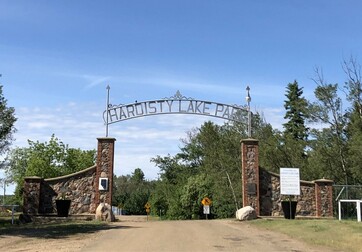 Hardisty Lake Park & Campground
Hardisty Lake Park & Campground is a quiet, well treed park and Campground nestled beside Hardisty Lake all within the Town limits. Here you can relax on a sandy beach, swim in the clear water, or go far a walk around the lake. There is a playground for the kids with lots of room to run. Located within the park complex is a beautiful public golf course, baseball diamonds, and rodeo grounds.
Hardisty Lake Park & Campground has 58 camping sites available, including 7 groups sites. 51 of the sites at the park and Campground are full service and the rest have power. Online reservations are available with the link below, or call 780-888-2700. The Hardisty Lake Park and Campground is operated by the Hardisty Agricultural Society and is open from May 1 to Oct. 1 of each year. Warden's hours are from 8 a.m. to 8 p.m. each day. The Park is locked at night from 10 p.m. to 6 a.m. for security from May long weekend until September long weekend, but you can always get out in an emergency.
*Note: All water within the Park is NON-POTABLE!*
There is an overflow area located right next to the Campground at the Hardisty Rodeo Grounds. This is normally used for group bookings; weddings; family reunions, etc. There is power for 20 units in the overflow area
Phone: (780) 888-2700 
Email: hardistylake@hardisty.ca