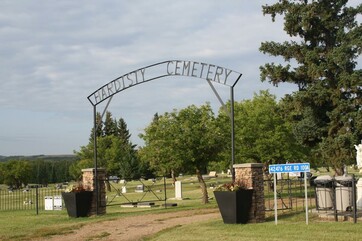 The Hardisty Cemetery is located 1 km south east of the Town of Hardisty. It was originally two Cemeteries side by side; Hardisty and St. Mark's Cemeteries.
The eight acres overlooks the Battle River Valley surrounded by a metal fence with two entrance gates. The land was originally owned by the Canadian Pacific Railway. The first interments were that of Angus Mckay in plot AE14 and Charles Cooper in plot EBO6 02 at St. Mark's Cemetery in I906. The first interment in the Hardisty Cemetery was Catherine Oxford in 1920 in plot A40.
The original St. Mark's Cemetery caretaker was the Anglican Church; however, over the years due to a number of circumstances, such as the decline of the family farm, movement of people to metropolitan areas, lack of volunteer help and rising financial costs, this Cemetery was taken over by the Town of Hardisty. At that time the two Cemeteries became one, now known as the Hardisty Cemetery and is maintained by the Town.
The Hardisty Cemetery Committee was formed in January 2002. The Committee is a volunteer group of individuals whose goal is to make the Cemetery neat and aesthetically pleasing. Numerous improvements have been made since 2002. To name a few of our goals accomplished: refuse bins, newly painted fence, removal of dead trees, dust control of the road, registry of burials and Cemetery history at the front entrance, birdhouses, numerous unsightly grave cover removals to date, upgrading of interior road. The Cemetery does look neater.
A very special "Thank-You" to everyone who has helped in any way with the re-building of the Cemetery. Feel free to visit and view the improvements made.
If you would like to make a donation to the Cemetery the address is Town of Hardisty, Box 10, Hardisty, Alberta. All donations will go towards the beautification of the Cemetery.
P.O. Box 10
NW 25-42-10-W4
Hardisty, Alberta T0B 1V0
Related Documents