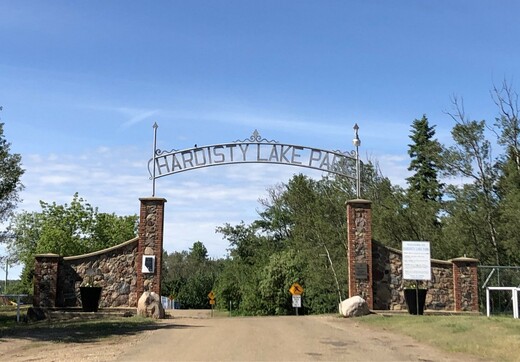 Hardisty Lake Park & Campground
Hardisty Lake Park & Campground is a quiet, well treed park and Campground nestled beside Hardisty Lake all within the Town limits. Here you can relax on a sandy beach, swim in the clear water, or go far a walk around the lake. There is a playground for the kids with lots of room to run. Located within the park complex is a beautiful public golf course, baseball diamonds, and rodeo grounds.
Hardisty Lake Park & Campground has 58 camping sites available, including 7 groups sites. 51 of the sites at the park and Campground are full service and the rest have power. Online reservations are available with the link below, or call 780-888-2700. The Hardisty Lake Park and Campground is operated by the Hardisty Agricultural Society and is open from May 1 to Oct. 1 of each year. Warden's hours are from 8 a.m. to 8 p.m. each day. The Park is locked at night from 10 p.m. to 6 a.m. for security from May long weekend until September long weekend, but you can always get out in an emergency.
*Note: All water within the Park is NON-POTABLE!*
There is an overflow area located right next to the Campground at the Hardisty Rodeo Grounds. This is normally used for group bookings; weddings; family reunions, etc. There is power for 20 units in the overflow area
Phone: (780) 888-2700 
Email: lakepark@hardistyag.ca
Full Service $35/day - $225/week
Power $30/day - $200/week
PLEASE NOTE: Prices are per unit per site
Overflow at the Rodeo Grounds is $25/day
Camping Fees are payable at the time of permit purchase.
These are non transferable.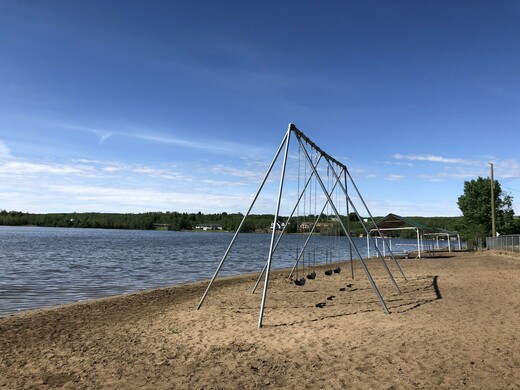 Park Includes:
Playground
Large picnic area
Firewood for sale for the campers
Showers & washroom facilities
Swings on the beach
3 gazebos for shade
Trailer dump
Ice is available at the Park Warden's office


Park Regulations
No boats allowed in park
No littering
No noisy activities in park after 11 pm
Speed limit is 15 km/h
Daylight swimming and boating only
No all-terrain vehicles in park area
Dogs must always be kept on a leash, and no dogs allowed on the beach. (Town of Hardisty By-law #997).
Contact Information:
Phone: (780) 888-2700 
Email:lakepark@hardistyag.ca